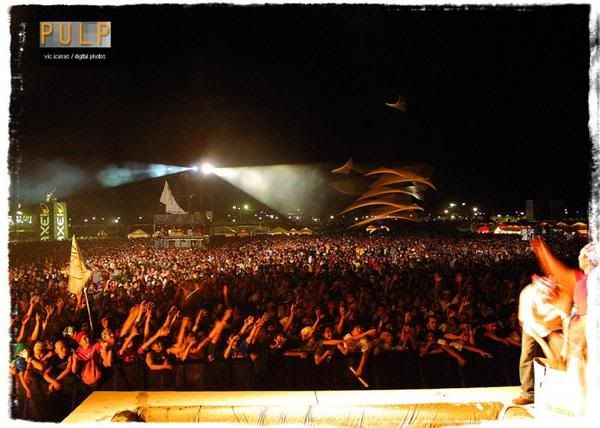 [Four years ago, it was described as quite similar to a civil war. I haven't believed that statement by Vernon Go 'til Forever came. With blue bottles of differences shapes and sizes, there came an internal warfare – for fun and love of pure music…It is a specter that one attendee should never miss, never.]



The crowd is a lot calmer now, as compared to the past slams. And although the place has been essentially filled, the actual arrival of the attendees went a little late. There was a subtle element of fear and intention for peace. Indeed there was for the whole duration.

The usual freebies: beer, pizza, shirt discount, and Pepsi. But hey now, they included a Smart SIM and a raffle for a trip for two to Boracay with the band I am going to mention later. Well not bad for the 220 damage.

---
To start things up, there were Concrete Sam, April Morning Skies, Faspitch, and Manibela rocking out. Nice voices with essentially the same tonality but different drives in their music. (The Faspitch vocals seemed quite a celebrity-looking guy.)
---
Too bad for 6 Cycle Mind, the crowd was quite uncomfortable with them being on stage. And so they just had to put a show on those three quickie songs without bothering to connect to the crowd. ("..kapit sa patalim…")
---
Oremuz reminded me of Evanescence if not only for the presence of that growling girl. Nice music, nice keyboards, but seemed to me a bit monotonous. Same notes, same chords. Achoo!
---
Rex is a show! Yeah, the music has the groove and style but one could only be moved by the oh-so big boobs of the vocalist. I'm not familiar with them, not even heard of their music before but sure they would haul lots of guy fans. Freebies are the best and they had it – shirts, stickers, etc. – although I was just able to get a curt pin with the band's name on it.
--
New sound! Saw Gayuma for the first time after several thousand times of hearing them at NU, an exaggeration of course. (Hari ka ng inyong mundo…)
­--
Well, talk of freebies, I think one of the things that made the Slam memorable was when Jumping Jacks gave one of their guitars on the crowd. (HOW I WISH I WAS IN FRONT!) They kept on saying that they're gonna give one of the guitar for the one who would rock out the most and I thought that was just their way of arousing the people. And guess what, the guitar indeed went pass the protective net of the stage into the hands of one of the kids there. Wowowee!
--
Kamikazee is sure to put up a gag show anywhere they appear. Talk about making fun of Piolo (with him in the beach?) and of Champ of course, their favorite ("...muka kang tutubi…") Four songs and the sea of people just went wild with it. Cheers to the clowns!
---
Basically K
ing Lychee (www.kinglychee.com) and Piledriver (www.myspace.com/lagunapiledriver) are into the same theme: unity and brotherhood. And it was so nice seeing Piledriver raise the torch of Laguna hardcore! The songs they performed reminded me of those times on that small Lumban rooftop and Cabuyao bar. =)
Thanks for the KL EP although I have already downloaded it from the internet. A good souvenir for SS8 (I practically went in front just to have that).
--
Typecast? Yeah emo rules, hehe. Same tricks but with the added beauty with the view of that nice white guitar and Wah pedals, definitely new flavors in these tears-driven music of emotions.
(www.typecastmusic.org, www.myspace.com/typecast)
---
Cool Pedicab, although some of parts of crowd seemed to put no attention at all to their oh so cool gadgets making all those cute assortment of sound effects one can usually hear in old school computer games. Whhheeeeeessssshhhh! Said a sound effect. One of the fx guys was definitely Raimund but the other one? I dunno. Seemed to me that it was Ebe. I could only guess. =)
---
There was a bit of bad taste in the performance of Sandwich, something I haven't seen from their earlier performances. I wonder where Irene was. And is the tattoo on Raimund's the left arm for real? Sorry, I am not quite familiar. But beautiful Pin-up Girls bassist. =) (looked like Aya).
--
Define chilling out! Moonstar88 did just that. At least the novices in front had the heart to respect a woman in front. Well, well, well. Love songs indeed cut through all ages. As they hit Torete, almost all sang with it, with all the feelings and stuff. =) (I miss Acel though when she last there last at SS4.)
---
First time to see Kjwan and Marc scrap away the guitars. I like his choreo and the liveliness of their performance. Natural, from within so to speak. I wonder if the guitarist is the one seen in the music video of their song Daliri.

---
Cool, cool, cool Intolerant performance. With Vernon (I doubted it was him at first) the first song looked like a party. (Ogie look-alike? Hehe. Just kiddin' EIC.) And hey how could one forget the fire displays? You don't see that much here and so it was great to have witnessed it again.
---
I really don't know why Urbandub's music (www.myspace.com/urbandub) is so soothing in my whole being. Although I've watched them a number of times (the first time beside Reg Rubio wahoo!), they seemed all different and fresh. And hey Miss L, nice new hair cut and wireless bass guitar! So you get to go around the stage much now, eh? And cuter I think. (But you did not approve my Friendster request! Ggggrr.) Try and have a sip of music that's doped with themes of love, hope, hopelessness, and night thoughts. Bow to the night sky!
---
Slapshock has the strength in its own respect. Take that with their power to move the people at watch. Although not already a prolific listener as was before, it's still a good reminded of past musical tastes and influences.
--
Queso (www.myspace.com/queso) is one curious and serious show. With four familiar songs, it still compelled the awed watchers to head-bang. And talk about Ian jumping into the crowd! Whatta man he is indeed. It's kind of a miracle that he doesn't get his boners crushed. (Watch his UP Diliman Feb Fair 08 vid in YouTube (www.youtube.com) where he fell off the stage and seemed not hurt at all. Ganja power mah man!)
---
I was bit quite turned off by the way Mahatma acted on stage. They seemed a bit bored and conscious. They were like staring at each other whenever there's a technicality. But, but, but, technically, their music is solid, especially their drums. Heck, I found myself staring to their drummer, jaws dropped literally. One can feel the vibe of BS2 (a cable channel with Korean musicians) right in front you as you could sense the technical mastery of their respective instruments. Sad though that I did not understand any of their lyrics. At least I was able to hear the title of one of their songs "Violence" amidst the concoction of roars of the people, both of sarcasm and enthusiasm. Trivia: The first thing that you would notice from this band is that they look like much the boy band who stormed the country 5 years ago, from Taiwan. (Oh baby baby baby, my baby baby, haha!)
---
Well it's pretty hard going over the performances of all the bands and perhaps one would be pretty much contented at saying, SEE FOR YOURSELF. And this I can say of Darkest Hour (www.myspace.com/darkesthour). A professional in dealing with people, they have managed well the posers and kids in front. Hell was the word as their sound (was it noise?) almost ripped my ears! But it's one thing that one should be anticipated from such bands: all loud and wild! And hey, cool cool drummer! Parang kumakain lang ng mani ah! (I wonder who went with them to Boracay last Tuesday?)
--
"Buhayin nation 'to!" said Reg Rubio of Greyhoundz (www.myspace.com/greyhoundz) as people seemed to lack the energy as they pulled out they first song. Doble Kara made it successfully as hands and sweats and body odors mixed well with the music. And hey hey hey! It gave me the goose bumps as they performed one of the first songs I've heard from their album, Puppet and Clown and it was truly evil! Darn song, so soothing to the angst-full spirit! And to top it all up the guys just went wild for Apoy…which reminded me of Allen more than any other person. (I thought they were still setting up his guitar at every performance. Where was it? I didn't see it.)
--
Practically after the Houndz, I've heard no more of the music, so to speak. I think COG and SIN played and that band from Cavite whose name I really don't recall. All metal made it to the stage. Funny though, I think I haven't seen Chicosci and VOC on stage. Were they out for some other gig? I wonder. (Vampires,eh? Hahahahaha.)
--
AND WHERE WAS THE DAWN???
--
My consciousness was finally extinguished along with the music of End of Man in my ears.
--


Much thanks to my partner in crime; more than just a patient resource. Bow!